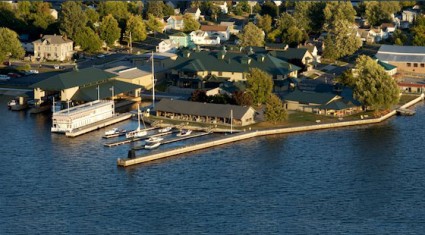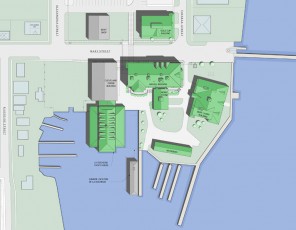 The Antique Boat Museum
Master Plan
Clayton, New York

Located on the St Lawrence River in New York, The Antique Boat Museum owns the largest collection of fresh water wooden antique boats in North America. Many of the boats are still stored in barns in outlying fields. The masterplan study defines the campus, outlines the new structures needed for display, and pulls together the assortment of buildings on this waterfront site.
Because a number of the boats are launched each year, the relationship between building and water and access to the docks is important. Patrons are able to see the boats in the water, sit in them and take rides by appointment.
The major components of the masterplan are the Dr. Fred Thomas Skiff Livery, the Morgan Goldcup Race Boat Pavilion, the Haxall Library and Administration Building, and the LaDuchesse Yacht House.  The masterplan continues to be evaluated as new properties are acquired and as the scope of the collection expands.
Aerial Photography: Ian Coristine